For the first time in eight years, the critically endangered capercaillie population has increased.
The large grouse are only found in Scotland, and there are only 542 of them left in the entire UK.
The most recent external survey of leks, where male birds compete for mates, discovered 168 males, 19 more than the previous year.
Conservationists reported that populations in Strathspey, in the Cairngorms National Park, and in Easter Ross, in the Highlands, had seen an increase in numbers.
Even though the genetic diversity of Scottish capercaillies was low, the survey suggested that there was little evidence that it had suffered significantly.
The native capercaillie of Britain had vanished by the 1780s, and the current population is descended from birds that were brought over from Sweden in the late 19th century.
It has been proposed that additional reintroductions be made as a means of expanding the genetic pool.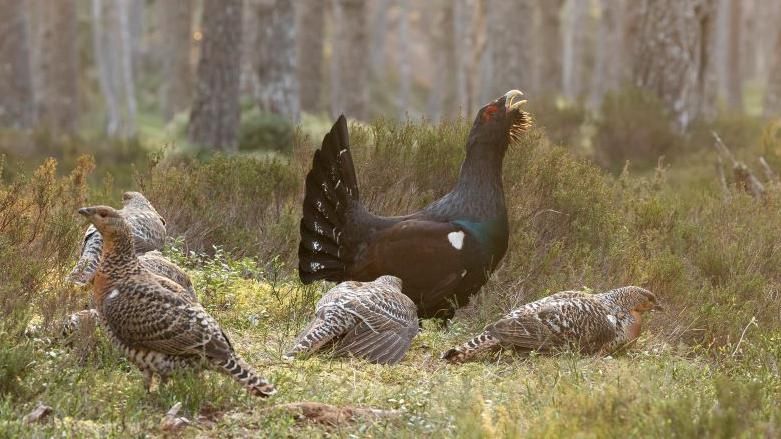 The decline in population has been attributed to habitat loss and human interference with breeding seasons.
The capercaillie could go extinct in Scotland within the next 30 years, according to warnings from the previous year.
The Scottish government has asked the Cairngorms National Park Authority and NatureScot to spearhead a coordinated conservation action plan in response to this spring's increase.
The capercaillie is close to going extinct in Scotland, but new research indicates that there is still hope for the species, according to Biodiversity Minister Lorna Slater.
"I am aware of the considerable effort already expended to safeguard one of Scotland's most recognizable birds, and we must not allow these efforts to go in vain. ".
The RSPB Scotland declared that it backed the fresh initiatives aimed at enhancing capercaillie conservation.