In advance of publishing detailed plans for its 112 mile (180 km) long power line across East Anglia, National Grid has started contacting landowners.
Electricity generated by offshore wind farms would travel along the network of pylons from Norwich to Tilbury in Essex.
Campaigners, county and district councils, as well as a significant number of the MPs in the area, have all expressed opposition to it.
According to Liam Walker of National Grid, it would advance "homegrown energy security and net zero.".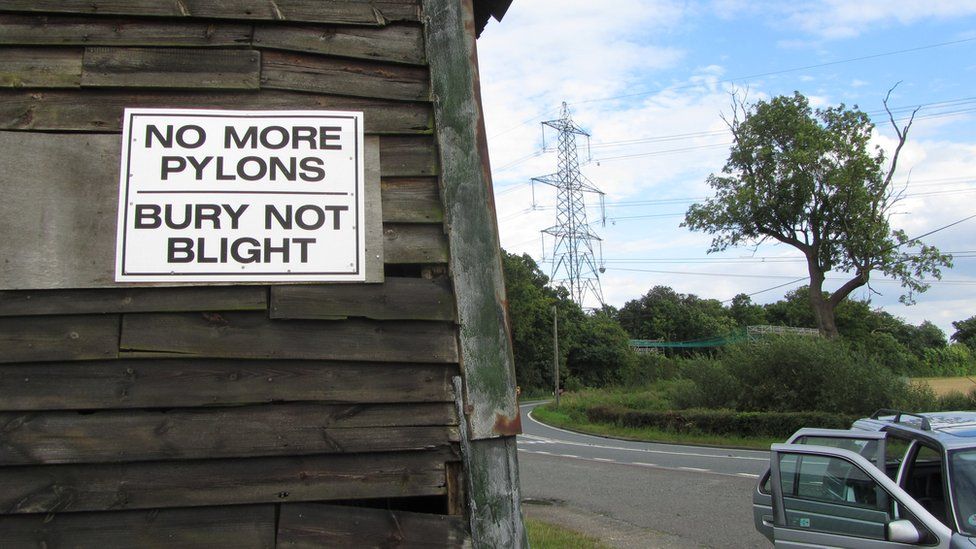 East Anglia One North (EA1N) and East Anglia Two (EA2), two wind farms off the coast of Suffolk, received government approval last year.
They are crucial to the government's efforts to meet climate targets and reduce energy costs, and they will eventually produce enough electricity for 1 million homes.
Developer ScottishPower intends to install cables close to Aldeburgh in order to deliver that power, but proponents want the power line to be submerged in the ocean.
On the border of Essex and Suffolk, in the Dedham Vale area of outstanding natural beauty, the line would briefly run underground.
According to the company, running the entire route underground or offshore would cause more disruption and increase the cost from £793m to £2bn to $4bn.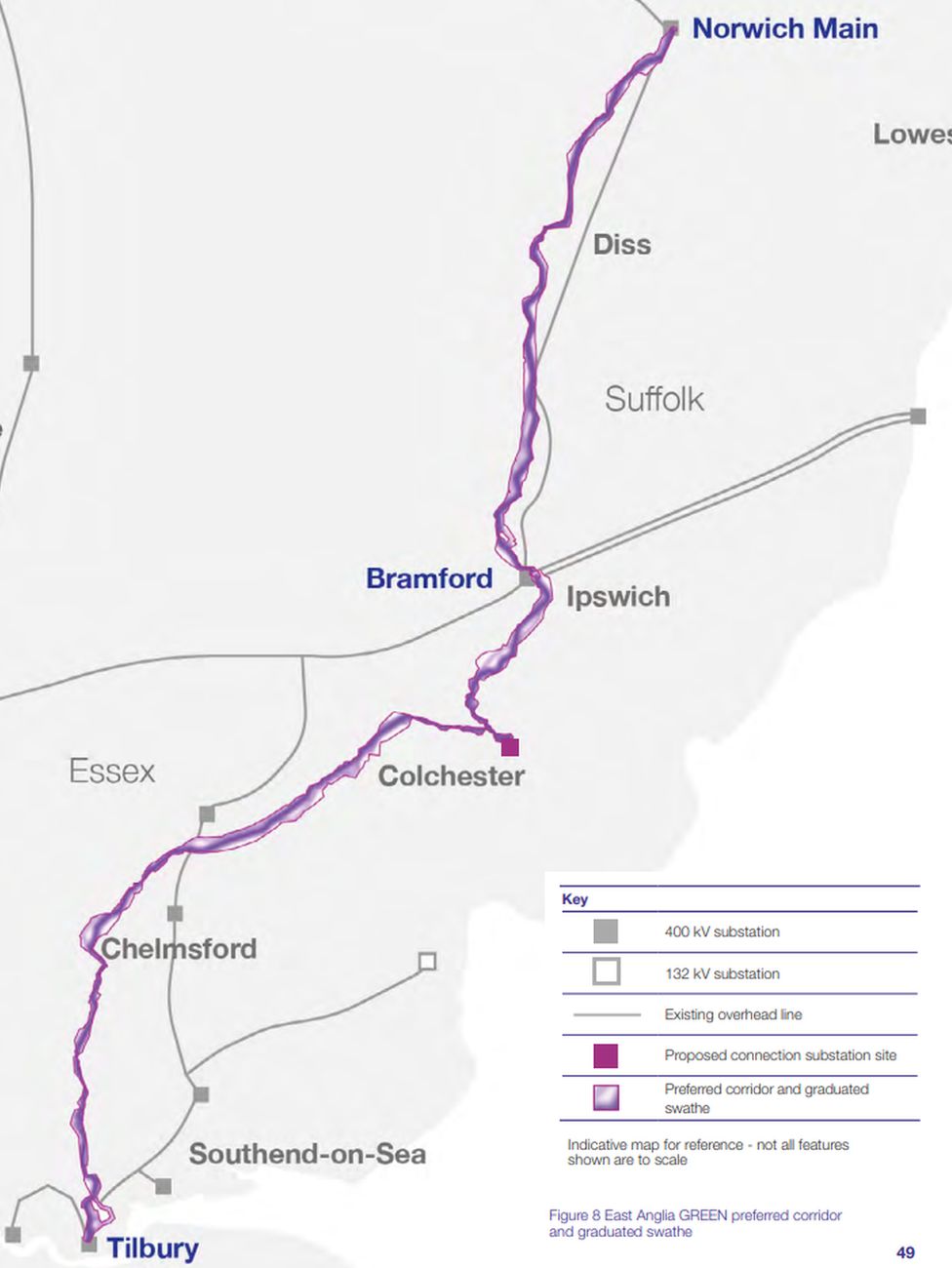 In response to a consultation held last year, National Grid has just started a eight-week public consultation on its updated East Anglia Green proposals.
The plans call for building a new substation in Tendring to link an interconnector and offshore wind energy.
The feedback we received during the initial consultation last year has been helpful in helping us further shape our proposals, according to Mr. Walker, project director for the Norwich to Tilbury scheme.
"We welcome feedback on the revised proposals from the public as part of this most recent consultation, which is another step in our engagement with the communities and stakeholders along the proposed route. "  .
The revised proposals provide information on the project's cost, engineering and environmental evaluations, impacts on biodiversity, ecology, the historic environment, and the visual landscape.
Participants in the consultation may do so in person or online.
Brentwood Center, Brentwood, on July 6, from 14:00 to 19:00 BST.
Friday, July 7, from 14:00 to 19:00 BST at the Diss Youth and Community Centre.
The Lawford Venture Centre 2000 in Manningtree will be open on Saturday, July 8 from 11:00 to 16:00 BST.
Tibenham Community Hall, Tibenham, on Monday, July 10, from 13:00 to 18:00 BST.
Tuesday, July 11 from 11:00 AM to 6:00 PM BST at the Blackbourne Community Center in Elmswell.
Chelmsford City Racecourse, Chelmsford, on Wednesday, July 2, from 14:00 to 19:00 BST.
Langham Community Centre, Langham, on Thursday, July 13, from 14:00 to 19:00 BST.
Grays Civic Hall, Monday, July 17, 14:00–19:00 BST.
Tasburgh Village Hall, Tuesday, July 18, 13:00–18:00 BST.
Copdock Village Hall, Wednesday, July 19, 14:00–19:30 BST.
Witham Public Hall, Witham, on Thursday, July 20, from 14:00 to 19:00 BST.
Friday, July 21, 14:00–19:30 BST, Basildon Sporting Village, Basildon.