The 112 miles (180 km) long power line that runs through East Anglia has detailed plans published by National Grid.
Electricity generated by offshore wind farms would travel along the network of pylons from Norwich to Tilbury in Essex.
Campaigners, county and district councils, as well as a significant number of the MPs in the area, have all expressed opposition to it.
The plans have been modified to include additional underground cabling at the outstandingly beautiful Dedham Vale region in Suffolk, which is located on the border of Essex.
East Anglia One North (EA1N) and East Anglia Two (EA2), two wind farms off the coast of Suffolk, received government approval last year.
They are crucial to the government's efforts to meet climate targets and reduce energy costs, and they will eventually produce enough electricity for 1 million homes.
Developer ScottishPower intends to install cables close to Aldeburgh in order to deliver that power, but proponents want the power line to be submerged in the ocean.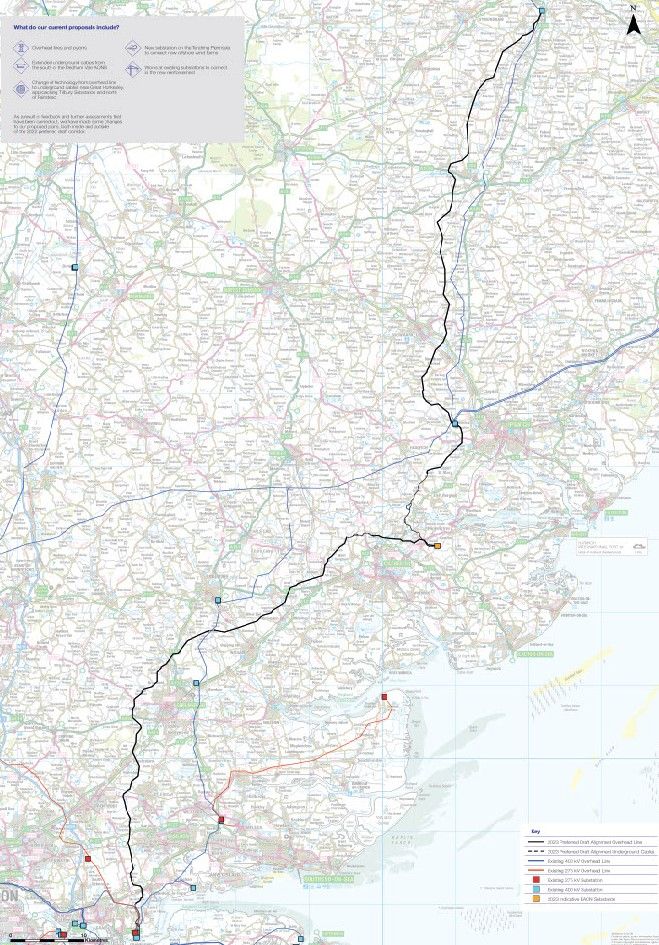 Additionally, it announced that it would run additional underground cabling at Dedham Vale, including for 5.3km (3.3 miles) near Great Horkesley in Essex.
The company has previously claimed that burying the entire route underground would more than double the line's cost.
Currently underway is a eight-week public consultation on National Grid's updated East Anglia Green proposals. A previous consultation took place last year.
The plans call for building a new substation in Tendring to link an interconnector and offshore wind energy.