The Met Office has confirmed that June was the hottest on record in the UK.
The average monthly temperature of 15.8C was 0.9C higher than the previous record-high average June temperature, which was set in 1940 and 1976.
According to scientists, climate change increased the likelihood of breaking the previous joint record by at least twofold.
In 72 of the 97 locations in the UK where temperature data is gathered, records were broken.
England, Scotland, Wales, and Northern Ireland all experienced their warmest Junes since the Met Office began compiling data in 1884, in addition to the overall UK June record.
According to Mark McCarthy of the Met Office, this June was the hottest on record for the UK in terms of mean temperature as well as average maximum and minimum temperatures.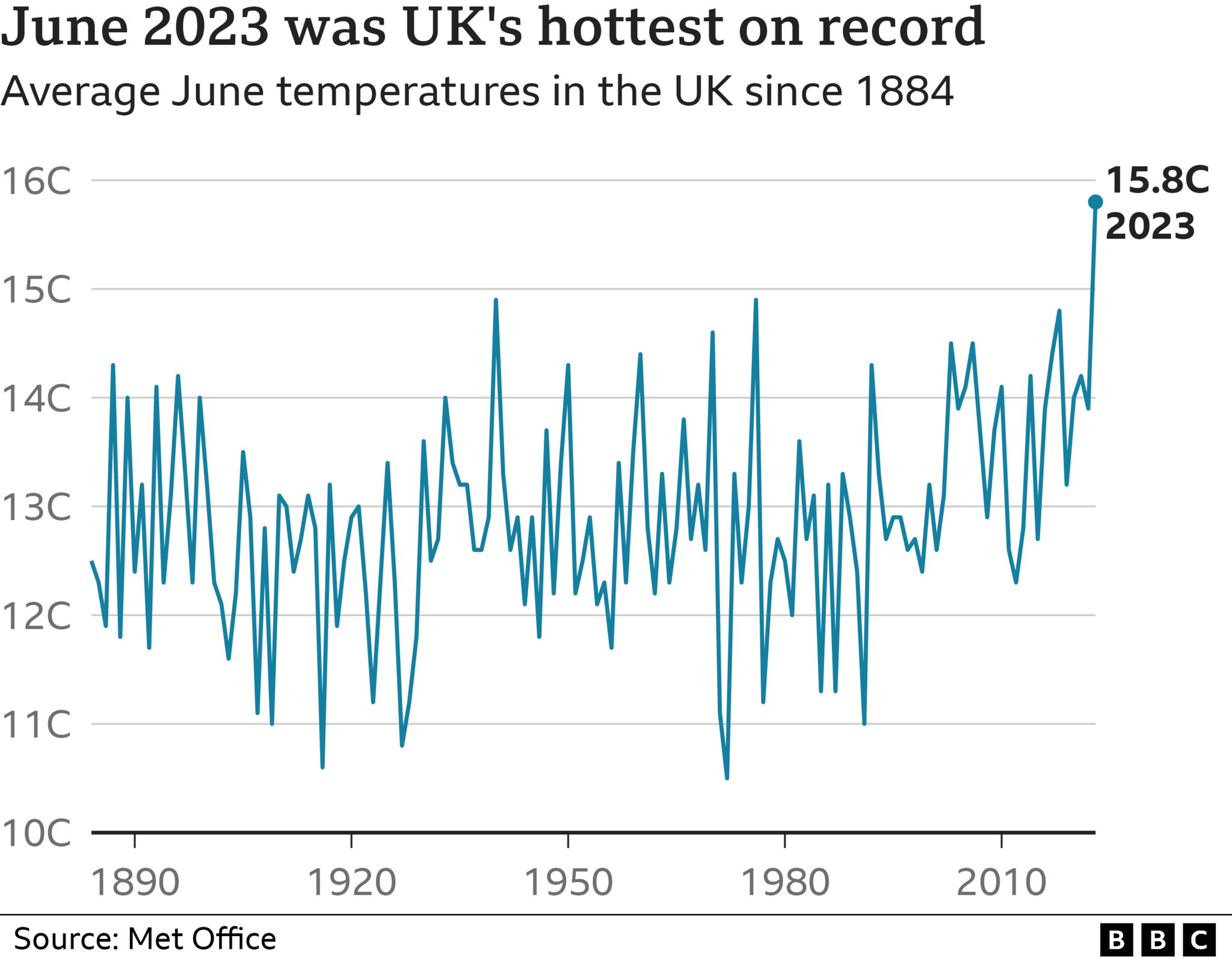 "An increase of 0.9C may not seem like a lot, but it's really significant because it has taken the average daytime and nighttime temperatures for the entire UK," said Paul Davies, Principal Fellow and Chief Meteorologist for the Met Office's Climate Extremes division, to BBC News.
"That's important in light of a warming climate and the consequent effects on society," he continued.
The sustained heat both day and night last month, he continued, made up for the UK recording a higher one-off temperature of 40 points 3C last summer.
In addition, only 68 percent of the typical June rainfall fell during much of the month.
With slightly more than half of its normal monthly rainfall, Wales was especially dry.
A supercomputer was used by the Met Office to analyze temperature data and find signs of climate change in the weather.
According to Mr. Davies, "we found that the likelihood of seeing a June beating the previous joint record of 14 point 9°C from 1940 to 1976 has at least doubled since the 1940s.".
"Along with natural variability, the Earth's atmosphere has been warming in response to human-caused climate change, which has increased the likelihood of reaching record-high temperatures," he continued.
Extreme weather events are being caused by climate change all over the world.
Since the beginning of the industrial revolution about 200 years ago, the world has warmed by about 1 point 1C.
Activities like burning fuels have increased the Earth's atmosphere's temperature and released greenhouse gases into the atmosphere.
For the first time ever, the UK experienced temperatures above 40C last year. That would have been "virtually impossible" according to scientists.
Environment groups warned of fish deaths and flowering plants wilting due to the dry and warm weather that occurred last month, which had an impact on wildlife and nature.
The Wildlife Trusts told BBC News that nature is being "pounded by extreme weather without a chance to recover."