According to a Scottish government report, there may have been as many as 2.7 million single-use vapes left over in Scotland last year.
Due to growing worries about their environmental impact, Zero Waste Scotland was asked to produce an urgent review.
There are nine choices available, ranging from a complete ban to redesigning disposable vapes to make them easier to recycle.
The Scottish government has praised the report and stated that it will provide a thorough response in the fall.
The study calculates that there are 543,000 e-cigarette users in Scotland and projects that number will increase to 900,000 users by 2027 if no action is taken.
According to the report, more young people used vapes than smoked cigarettes last year, with 22 percent of all under-18s — or roughly 78,000 — believed to have used one.
It is estimated that users under 25 make up two-thirds of the total.
Ministers' options for consideration include a ban on either all single-use vapes or just the flavored ones that appeal to younger people.
It does, however, come with a warning that caution must be exercised to prevent rechargeable vapes from being used as disposable items, which would result in the production of additional waste.
According to the report, a ban might be subject to the Internal Market Act, which would call for UK government approval.
A deposit/return option is also suggested, in which case customers would receive a refund after returning the item to the store for recycling.
The review was initiated as a result of a campaign by Dundee-based environmentalist Laura Young, who had been collecting used vapes while walking her dog.
The report, she said, was "particularly worrying," but it provided a thorough analysis of possible responses.
Partial solutions will only produce partial outcomes, she continued. A complete ban on disposable vapes must be a part of the solution if we want to completely eradicate their unintended negative effects on public health and the environment. ".
Single-use vapes should not be thrown away in a recycling or general waste bin because they contain batteries.
Many users struggle to know what to do with them because they should be handled as electrical waste instead.
They are accepted at council recycling facilities and in specialized bins at some retail establishments.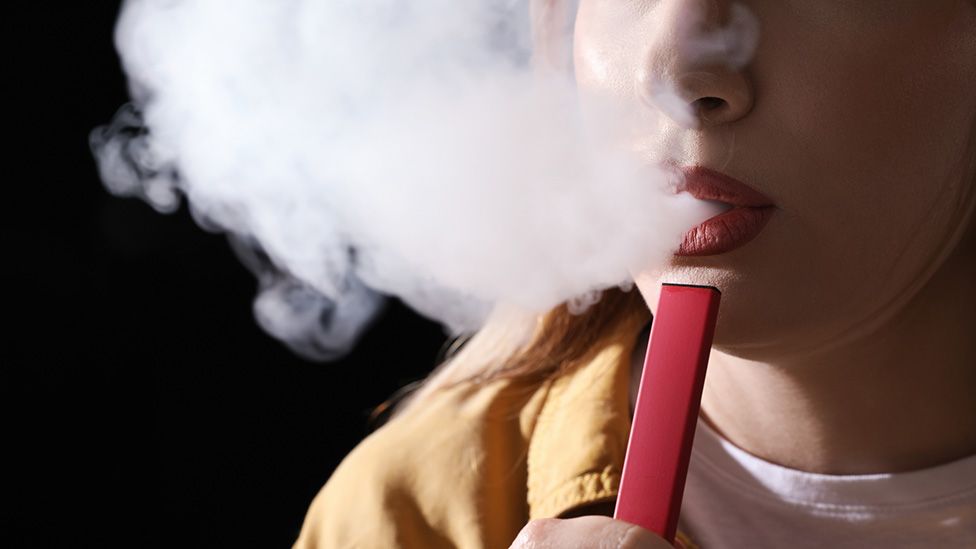 According to the report, sales revenues from grocery stores have doubled in just the past six months.
One-time use accounts for more than a quarter of all vapes, and this number rises to more than half among people under 25.
The majority of single-use vapes are produced in China, but the report claims that encouraging a switch to reusables could increase Scotland's and the UK's manufacturing share because those countries have a larger market share for producing liquid refills.
Insofar as it does not unintentionally lead to the emergence of a black market, the UK Vaping Industry Association has stated it is not opposed to a ban on single-use vapes.
Doug Mutter, who is also a director of the vaping company VPZ, welcomed the report and said the Scottish government needed to be more daring by enacting licensing and controls for the sale of vaping goods.
Fundamentally, we support a ban on these products, he said, but it must be implemented within a comprehensive framework that serves a specific purpose, where it will be properly policed and safeguards will be put in place to prevent the development of a black market for illegal goods.
The biggest problem still exists, however, in that many disposable, unregulated, imported vaping products are easily accessible from nearby supermarkets, convenience stores, and other general retailers with no age verification checks or controls in place.
This serious issue jeopardizes the nation's enormous progress in improving its health and achieving its smoke-free goals, which is what vaping has accomplished so far. ".
The Scottish government has thanked Zero Waste Scotland for creating the report and stated that it will provide a comprehensive response in the fall.
Minister for the circular economy Lorna Slater announced that she had invited ministers from other UK governments to talk about the report's recommendations and possible responses.
According to this report, single-use vapes have grown to be a significant issue for our environment, local communities, and young people. Over the upcoming months, I will act and interact with those affected, including youth.