An issue with a rocket fuel filter prevented the first satellite mission from the UK from taking off last month, according to Virgin Orbit.
In turn, a rocket engine overheated, resulting in the destruction of the rocket and the satellites it was carrying.
The rocket was launched by Virgin Orbit on January 9 using a jumbo jet out of Cornwall. The plane made a safe landing.
Dan Hart, the company's CEO, declared that it would "proceed cautiously towards the launch" of its following rocket.
As stated in a tweet from Virgin Orbit, "the data is indicating that, from the beginning of the second stage first burn, a fuel filter within the fuel feedline had been dislodged from its normal position.".
"Additional information demonstrates that the fuel pump downstream of the filter operated at a degraded efficiency level, starving the Newton 4 engine of fuel. The engine ran significantly hotter than its rated operating temperature as a result of this anomalous behavior.
When the mission's early thrust termination occurred, the second stage and its payloads fell back to Earth and landed in the Atlantic Ocean's authorized safety corridor. ".
When the LauncherOne rocket was launched from the Boeing 747 aircraft Cosmic Girl, Virgin Orbit reported that while it had reached space, it had not yet reached its intended orbit.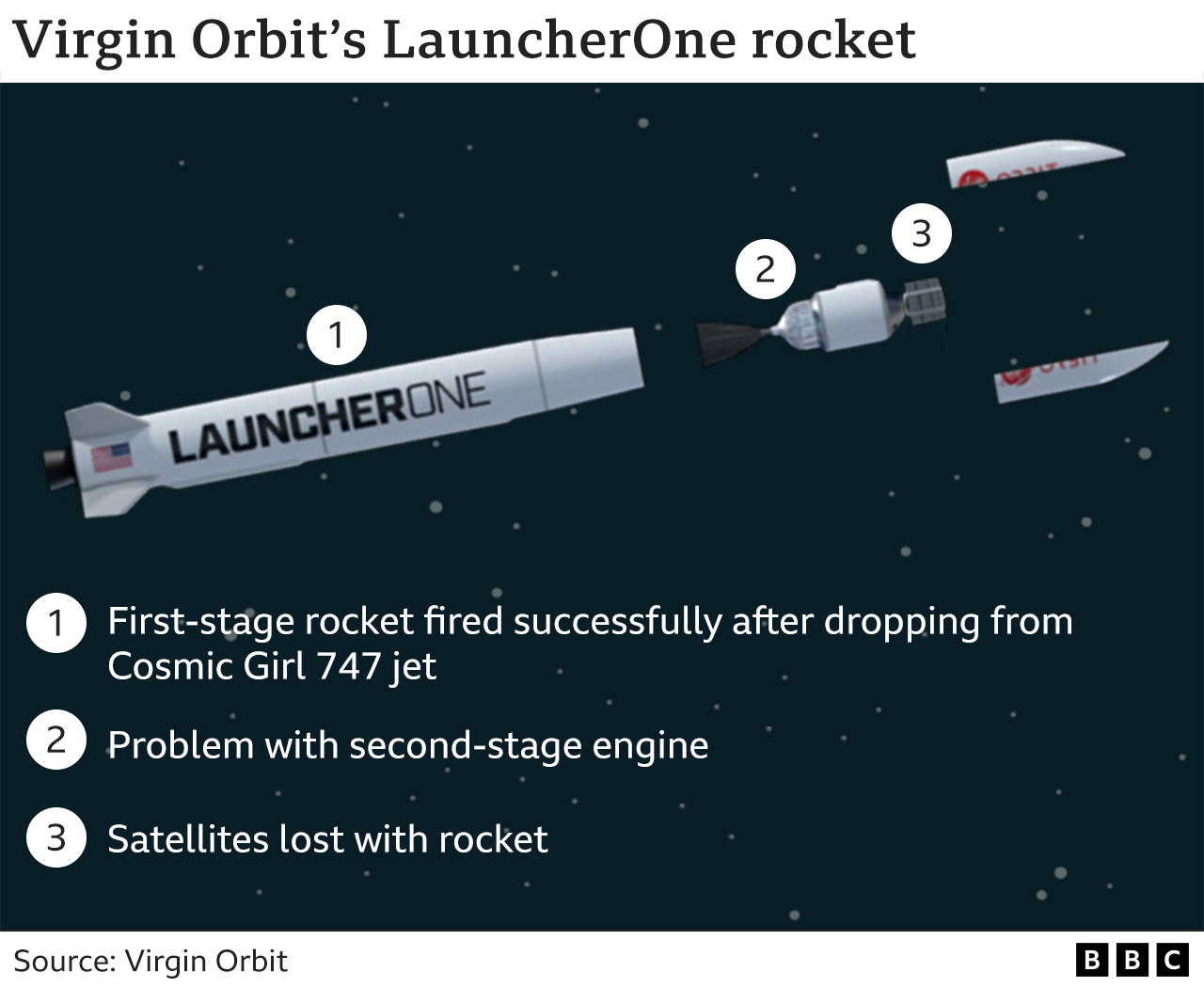 The mission had been heralded as a turning point for UK space, launching a domestic launch industry. The goal is to make the nation a major player on the world stage, from satellite production to rocket development and new spaceport construction.
At the Cornwall Newquay Airport, over 2,000 spectators and VIPs gathered to watch the launch, which drew a large crowd.
Intense disappointment, according to Mr. Hart, "gets quickly channeled into the motivation to explore the cause, to comprehend all contributing factors, and to subsequently get back in the air with a better system and a wiser team. ".
The investigation into the rocket failure, he continued, was still ongoing.
Sir Richard Branson, a British businessman, founded Virgin Orbit, which has its headquarters in Long Beach, California.