As Greta Gerwig's Barbie and Christopher Nolan's Oppenheimer earned £30 million in their first weekend at the box office, "Barbenheimer" fever spread throughout the UK.
The UK Cinema Association reports that this makes it the weekend with the most moviegoers in the UK since 2019.
The Disney blockbuster Avengers: Endgame earned £43.7 million in its opening weekend that year.
The Vue movie theater chain reported that this past weekend's admissions were the second-highest in company history.
Barbie is currently on pace to surpass Super Mario Bros. as the year's most popular movie.
The UK box office results for the weekend will be broken down in more detail later on Monday.
Barbie's marketing campaign has been enormously successful, with $337 million (£293 million) in worldwide debut sales.
It became the biggest opening of 2023 in that region thanks to US and Canadian receipts.
According to distributor Warner Bros, the movie made an estimated $155 million (£120 million), while Oppenheimer earned $93 point 7 million (£72 million), according to Universal Pictures.
The North American box office total easily surpassed Patty Jenkins' Wonder Woman's opening weekend record of $103.3 million for a female director.
Both movies have provided much-needed solace for theaters that are struggling to compete with streaming.
The main focus of Oppenheimer's story, which stars Cillian Murphy and was directed by Christopher Nolan, is the creation of the first atomic bomb.
The children's character Barbie tells a coming-of-age tale in which she discovers who she is and encourages her friend Ken to forge his own identity.
Film polling company PostTrak told Billboard that women made up 65% of the Barbie audience while people under the age of 25 made up 40% of ticket buyers.
But things weren't always easy for Barbie. The movie debuted in fifth place in China, the second-largest film market in the world.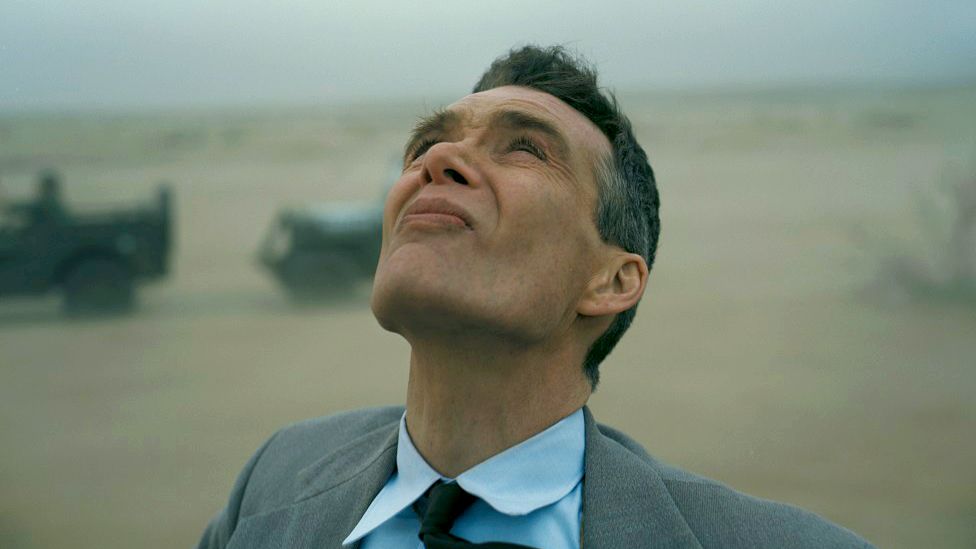 According to data from consulting company Artisan Gateway, it only made $8.2 million in its first three days. However, it's common for Chinese audiences to prefer domestic films to Hollywood ones, and some analysts thought that exceeding the $8 million mark was a success.
While this was going on, Indian moviegoers were in for a surprise when Nolan's movie was reportedly shown with Barbie subtitles.
Twitter user Sapun wrote: "Friend of my cousin posted on Instagram that a theater played Oppenheimer with Barbie subtitles.".
In Pakistan's Punjab province, the release of Barbie was postponed on Friday due to "objectionable content," according to officials.
The interview between director Christopher Nolan and BBC Culture editor Katie Razzall can be found on the. iPlayer by BBC. eleven months.