Dickie Davies, a 94-year-old television host who served as the face of ITV sports coverage for more than two decades, has passed away.
Between the 1960s and its end in 1985, the celebrity hosted the Saturday afternoon program World of Sport.
The program competed with the BBC's Grandstand by mixing live sporting events like racing, wrestling, and football results.
Jim Rosenthal, a former coworker at ITV, broke the news of Davies' passing by expressing how proud his family was of his "brilliant career on television.".
"Dickie was a great friend and workmate. RIP DD, he concluded.
Simon Thomas, a colleague in the field of sports broadcasting, praised Davies and referred to him as an "absolute giant" in the business.
Other tributes from fellow sportscasters have poured in, including Sky Sports Jeff Stelling, who said he grew up watching Davies on World of Sport and added that he was "one of my inspirations along with Des Lyman - a sports broadcasting legend.".
Richard Keys referred to the loss of a "kind man and brilliant broadcaster" as the "end of that era," while Gabby Logan of the BBC called him "one of the very best.".
"Ach, Dickie Davies," wrote ITV football presenter Mark Pougatch on Twitter. The remainder of us follow in the giants' wake. RIP. ".
Davies, a native of Cheshire, started his television career in 1960 as an announcer for Southern Television after working for seven years as a purser for the cruise line Cunard Line.
He moved to ITV and began filling in for Eamonn Andrews on the new program World of Sport before taking over as the show's host in 1968.
He oversaw a five-hour TV marathon that aired every Saturday and covered a wide range of sports, including many minority events that had never been broadcast on television.
It was a time before billion-pound bidding wars between 24-hour sports channels began over the rights to broadcast sports. Every May, Davies would oversee ITV's daylong buildup to the FA Cup final, one of the few football games that were being broadcast live at the time.
He contributed to the three Olympic Games' ITV coverage as well.
The 1977 Christmas Eve special of World of Sport, in which comedian Eric Morecambe performed a series of distracting skits as Davies hosted the show, is one of the program's most memorable episodes. At one point, Morecambe used Davies' head to balance his cue during a game of snooker the two were playing.
One of the most recognizable - and impersonated - ITV stars of the era was Davies thanks to his trademark white streak in the front of his dark bouffant hair and bushy moustache.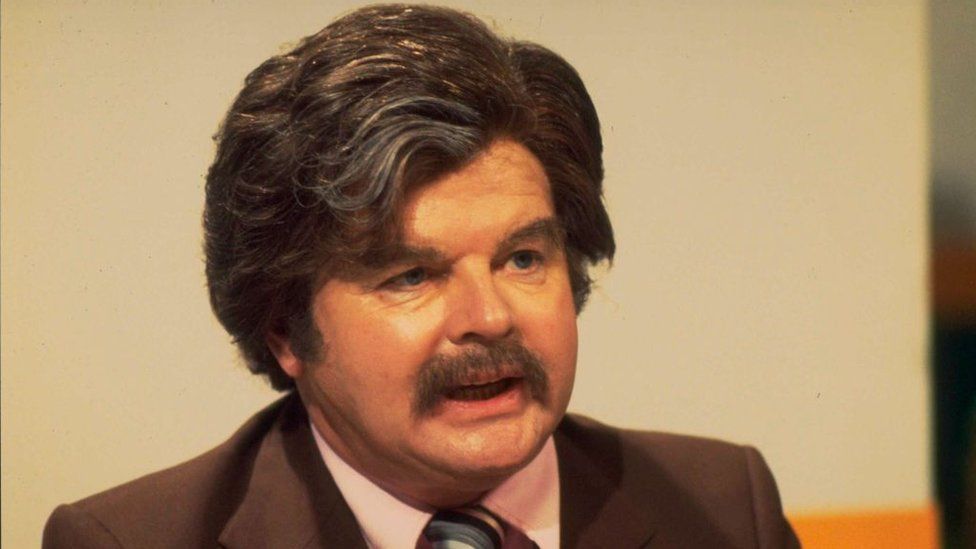 His most improbable claim to fame came when the independent band Dickie Davies Eyes by Half Man Half Biscuit honored him in 1986.
During his early years on World of Sport, he also had an unlikely side job. He invested some of his TV earnings in a pub called the Globe in Andover, Hampshire, and was occasionally seen working behind the bar on a Saturday night, hours after broadcasting to millions of viewers.
Davies continued working for ITV as a presenter after World of Sport ended in 1985 for another four years before transferring to a new position as sports editor with Classic FM.
Though he slowly recovered, a stroke in 1995 left him unable to speak clearly and forced him off the air.
In the years that followed, he made sporadic appearances on television for a variety of specials, including ITV's 2005 50th World of Sport anniversary special and a few Sky Sports shows.