Politicians should not be allowed to host TV shows on news channels, according to the media expert who created the UK's broadcasting regulations.
No one anticipated the rise of politician presenters when the rules were being developed in the 2000s, according to Chris Banatvala.
Considering "whether what is emerging is acceptable in terms of due impartiality," he advised Ofcom.
The regulatory body is revising its guidelines for politicians who appear on TV programs.
Under Ofcom's rules, news must be presented with due impartiality, and politicians are not allowed to be newsreaders, interviewers or reporters "unless, exceptionally, it is editorially justified".
Ofcom says there are no rules against politicians hosting current affairs programmes, as long as they reflect a range of views.
But there's been a debate about how these rules apply to the growing number of programmes fronted by politicians on GB News and Talk TV, both relatively new channels.
Last month, Ofcom commissioned research into these programmes after receiving hundreds of complaints about politicians presenting shows.
Then this week, the regulator launched two investigations into potential rule breaches on two programmes, including the GB News show presented by the former cabinet minister, Sir Jacob Rees-Mogg.
In the episode in question, Sir Jacob read out a breaking story about the jury verdict in a civil case involving the former US president, Donald Trump.
Writing in the Telegraph this week, Ofcom's chief executive, Melanie Dawes, said the regulator had a "crucial role in preserving the integrity of broadcast news" and a duty to "ensure our rules remain effective".
Mr Banatvala was Ofcom's director of standards when the regulator's rules around politicians presenting programmes were introduced in 2005.
He told the BBC that in a changing media landscape, we need "a grown-up debate about whether and how we want to apply due impartiality to news".
"It's evident now that news channels are blurring the boundaries between genuine news, current affairs and opinion," he said.  "That may be a good reason for Ofcom to look at these rules in the round. ".
He added: "We may need to look at whether these rules are fit for purpose, and whether we need to amend or adjust them. ".
He said the tenor of programme on some channels in the UK "is something that's come across the pond from America".
It's long been common to see politicians hosting programmes that veer between partisan commentary and news coverage on channels such as Fox News in the US.
The UK's impartiality rules go back decades and were included in Ofcom's broadcasting code following its creation as the communications regulator in 2003.
If broadcasters are found to have breached the code, Ofcom has powers to impose fines and other sanctions.
When the impartiality rules were drafted, Mr Banatvala said, they were felt to be "ample and adequate to prevent any programme from using the same political party over and over again".
"It wasn't ever envisaged that a news channel would use politicians from the same political party to present programmes, day in, day out," he said.
Grilling two Ofcom directors at a meeting of the Culture, Media and Sport Committee in Parliament on Tuesday, SNP MP John Nicolson asked why the regulator was not taking more action over programmes fronted by sitting politicians.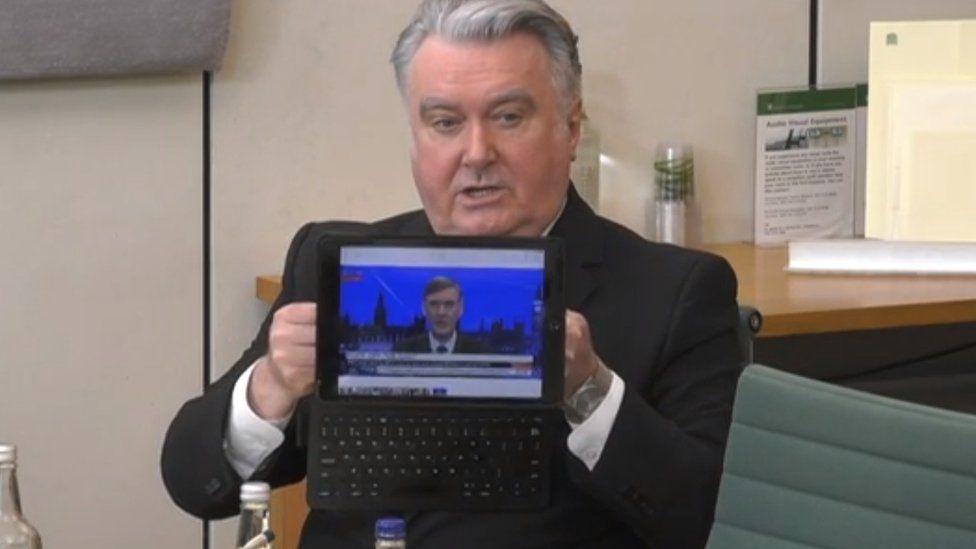 Singling out Mr Rees-Mogg's programme on GB News, Mr Nicolson said "every day, he churns out the same pro-Brexit, right-wing stuff", arguing "what he's doing is blurring news presenting and commentary".
He asked: "Why don't you act to stop this?".
Kate Davies, Ofcom's public policy director, said the watchdog looks at current affairs programmes "differently" to those focused solely on news.
Following further frank exchanges, Mr Nicolson said "we've lost all sight of objective journalism" and suggested "we're going to proceed down a route where we end up with awful, American-style ranting at the camera, we're already seeing it, masquerading as news".
Kate Biggs, Ofcom's content policy director, said the media watchdog takes its responsibility on impartiality and accuracy rules "very seriously".
She said the regulator's investigations into programmes "do set a precedent for other editors".
GB News and Talk TV have been contacted for comment.