A woman who creates intricate drawings of the council estates in Stoke-on-Trent claims she enjoys capturing the residents' personalities and sense of community in her work.
Meir Hay's Angel Cope claimed that she began illustrating the city during the pandemic and that "something just took over" as she is unable to stop.
Ms. Cope, who was raised in Bentilee, claimed that many of the specifics she included came from memories of her youth.
She expressed how much she missed seeing kids playing in the streets.
I enjoy displaying what is in people's windows because it reveals their various personalities, she said.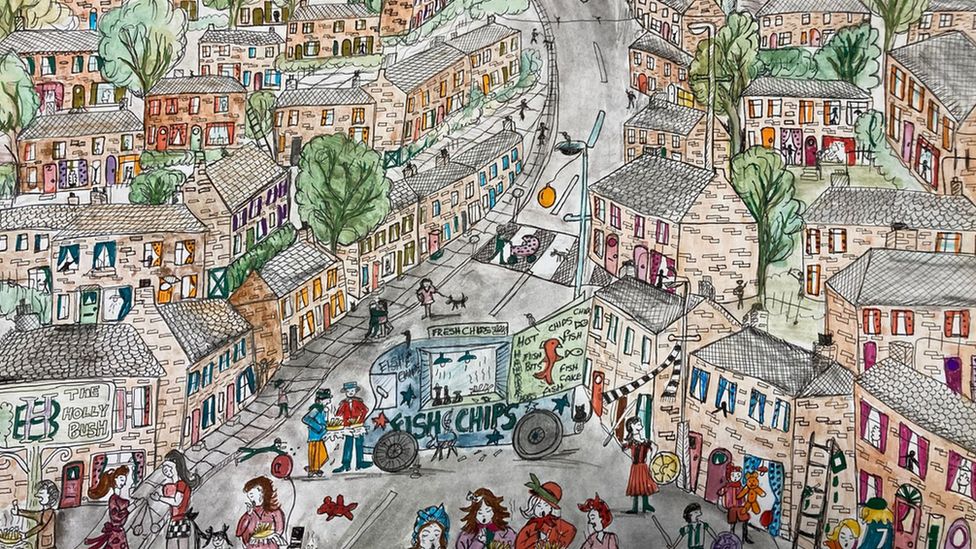 "Some people may have knitting hanging in their windows, while others may have different nets. All of that feeds me. ".
She stated that she wanted people to focus on the details.
They always say, "Oh, look at that in the window, oh, look at that," in my experience. Oh, you even put the empty milk bottle on the ground. '".
Tesco employee Ms. Cope claimed to miss Bentilee's "sense of community" and to have enjoyed contributing as much as she can recall.
"I just draw everything when I'm drawing Bentilee. You were using all five of your senses because you could smell the chip shop van before it arrived when people used to have the chip van on a Friday.
Getting older has made me miss those times.
"The streets were crowded when I took my photos. There are no kids playing in the streets anymore when you go there.
Therefore, I sometimes draw so much that I get emotional because of how strongly I feel about my memories of Bentilee.
"In Stoke, the people and sense of community are unmatched. People also think you don't notice the way the houses are dressed from the outside, but I do and they do.". ".