One of England's largest stately homes has opened an exhibition of contemporary tapestries by artist Grayson Perry that explores attitudes toward class.
A Rake's Progress, a painting by William Hogarth from the 18th century, served as the inspiration for six tapestries in the exhibition "The Vanity of Small Differences.".
Up until September 3rd, it is being held at Wentworth Woodhouse in Rotherham.
The Grade I-listed mansion's owners expressed their desire for the exhibition to "inspire visitors to learn new skills.".
Each piece charts a stage in the "class journey" and is on display in one of the mansion's four State Rooms.
When Perry traveled through Sunderland, Tunbridge Wells, and The Cotswolds to film a series for Channel 4 ten years ago, he was inspired to incorporate those locations into his 2012 tapestries.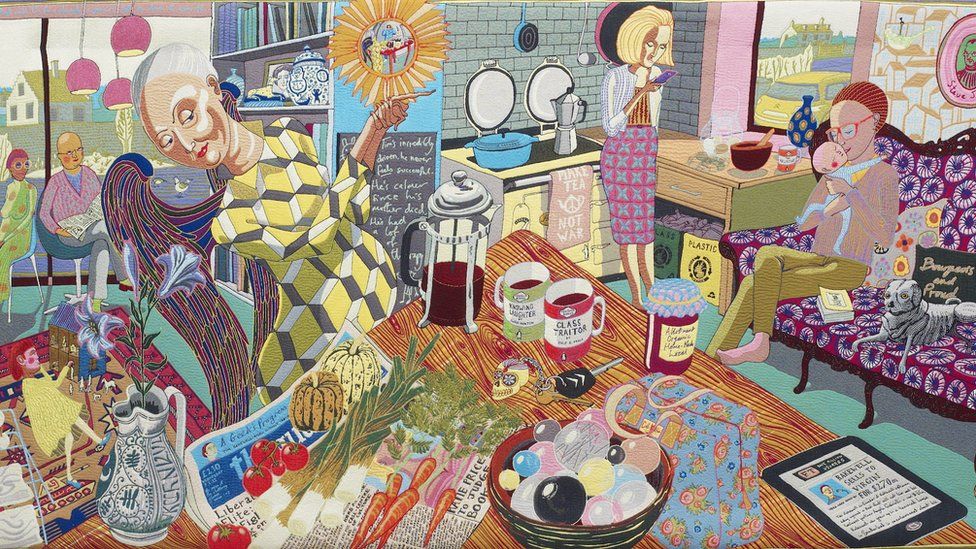 According to Sarah McLeod, chief executive of the Wentworth Woodhouse Preservation Trust, tapestries have been used as a medium for artistic expression and the documentation of historical events for centuries.
I'm confident that Grayson's contemporary interpretations will enthrall our visitors and motivate them to pick up new skills during the crafting workshops we're hosting with Flux Rotherham. ".
One of the organizers, Helen Jones, who works at Flux Rotherham, stated: "Our project proved there's now a strong interest in learning traditional crafting skills once more. It's wonderful to see this continuing. Many people sought them out during the pandemic and found them therapeutic. The Grayson Perry exhibition provided the ideal setting for our collaboration because Wenworth Woodhouse Preservation Trust adheres to the same values of community, diversity, and inclusion. ".
The venue will host a number of workshops as part of the exhibition to instruct textile techniques.