Long-term sickness could result in a decline in the workforce in the UK. A recent study issues a caution.
Working-age adults who are not employed or actively seeking employment, according to pension and health consultants Lane, Clark and Peacock (LCP), have increased significantly.
Early retirement does not seem to explain why the number has increased by 516,000 since Covid hit.
Meanwhile, according to LCP, there are now 353,000 more long-term sick people overall.
According to the Labour Force Survey's official data, it means that there are now almost 2.5 million working-age adults who are chronically ill.
The report is released at a time when there is growing discussion about the rise in what is known as economic inactivity, which now numbers 80.9 million people, and what is causing it.
Ministers are concerned that it might slow down economic expansion. Chancellor Jeremy Hunt has established a review of strategies to combat inactivity and may make a statement in the Budget on March 15.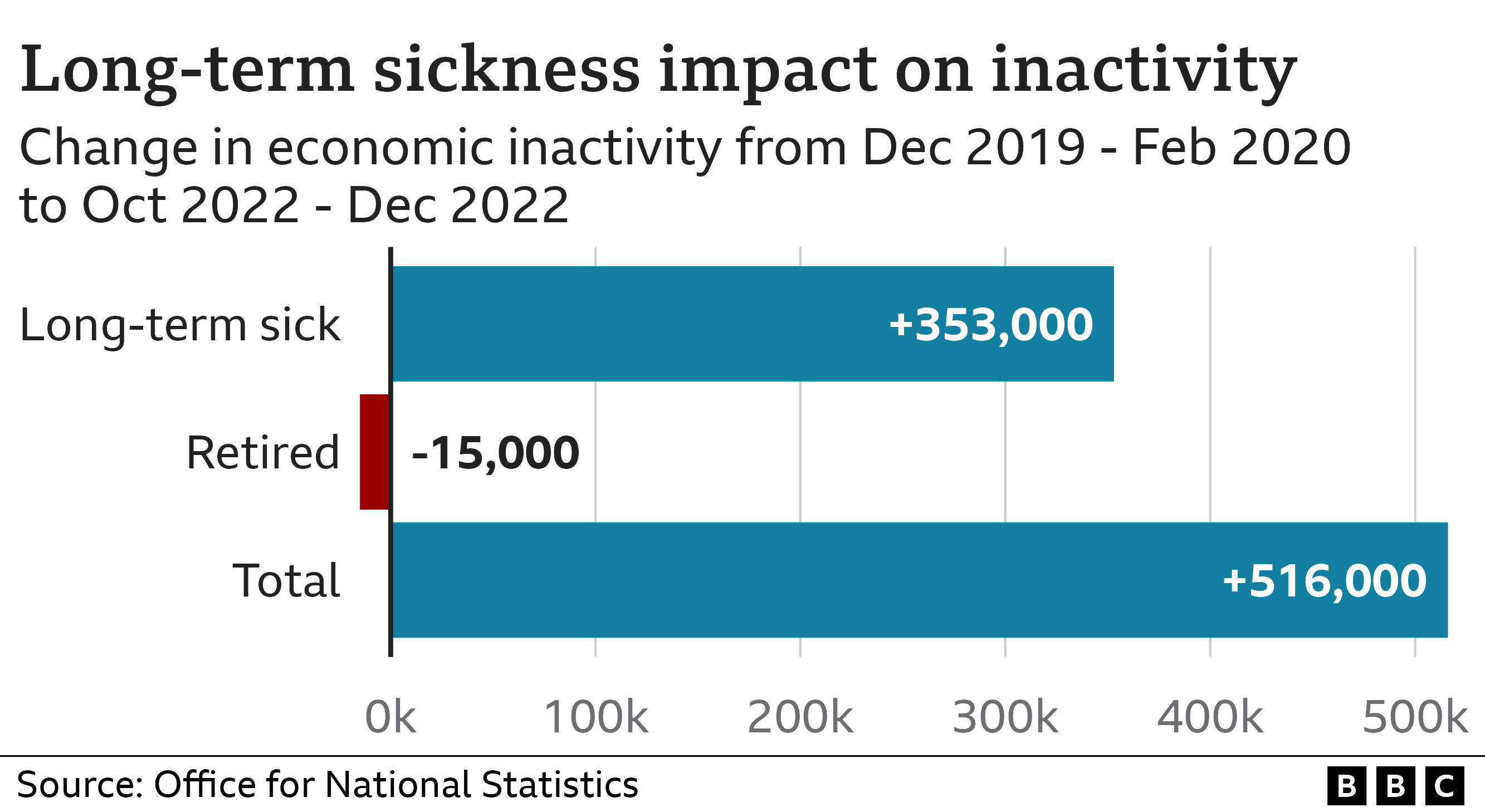 More people are retiring early, some because they have sufficient pensions and do not feel the need to continue working, according to some policy experts who have spoken of a "great retirement.". There have been discussions about policies to support older workers returning to the workforce.
The LCP report, on the other hand, takes a different tack, suggesting that some of the rise in long-term illness may be attributed to pressure on the NHS. Treatment for mental health issues and non-urgent operations could be delayed, according to some theories. Some people may be in worse health who would otherwise have better control over a chronic condition.
According to Dr. Jonathan Pearson-Stuttard, one of the report's authors: "The pandemic made clear the links between health and economic prosperity, yet policy has not yet invested in health to keep people living in better health for longer. Pressures on the NHS have caused patient care to be disrupted, which is probably having an effect on people's capacity to work now and in the future. ".
The government runs a real risk of "barking up the wrong tree" when it comes to the rise in economic inactivity, according to co-author and former pensions minister Sir Steve Webb. Policy solutions that aim to discourage early retirement or encourage retirees to work longer are likely to have little impact on reversing current trends. The focus of policymaking should instead be on comprehending the reasons behind the rise in long-term illness flows. ".
The report delves deeper into the data from the Labour Force survey regarding the lack of economic activity among people of working age.
When asked if they were still interested in finding a job even though they were not actively looking, respondents said yes. The long-term ill were by far the largest group to respond favorably. Only a very small percentage of those who identified as retired were interested in going back to their previous jobs.
The discussion will go on with various experts taking opposing positions.
The think tank Institute for Fiscal Studies (IFS) conducted its own research last year. The organization's associate director Jonathan Cribb stated: "The new research from LCP makes a compelling case that the UK's society and economy must address the urgent problem of rising rates of poor health.
However, according to research conducted in the summer of 2022, there have also been significant increases in the number of people who have retired straight from their jobs since the pandemic began, compared to a relatively small rise in the number of people in their 50s and 60s who have gone from their jobs straight into health-related inactivity. ".
Workforce participation is the subject of a review being conducted by the Department for Work and Pensions.
We are taking into account a number of factors to address inactivity, according to a government spokesperson. More information on this will be provided in due course. ".
A recovery plan is in place to lessen England's NHS backlogs, according to officials.